Less than 20 years ago, few people had even heard of broadband. Now it's the nation's lifeblood.
In one of our recent Twitter polls, a staggering 86% of you said slow broadband would put you off moving to a new area.
But where are the best and worst spots in the UK?
Our friends at uSwitch – part of the Zoopla family – have rounded up the fastest and slowest streets for broadband speeds across the country, and offered some tips on how to make the best of what you've got.
UK's broadband blackspots
Broadband – or 'download' – speeds are measured in Mbps (megabits per second). Sometimes, you'll see this figure expressed by providers as Mb.
Mbps refers to how quickly the data can be transferred so the higher this number is, the better.
If you're the kind of person who likes to binge on box sets online or download a decade's worth of music, download speeds are particularly important.
The most notorious streets for bad broadband?
Thorpe Lane in Felixstowe, Suffolk is the UK's number one 'broadband blackspot' with a dire average download speed of 0.68Mbps, uSwitch found. This is 53 times slower than the UK average speed  of 36.2Mbps and 260 times slower than the fastest street.
On Thorpe Lane it would take over 21 hours to download a two-hour HD film on Netflix, and nearly eight hours to download a 45-minute TV show in HD.
"It's astonishing to think that you could fly to Sydney in Australia in the time it takes to download a film on the UK's slowest street," says Ewan Taylor-Gibson, broadband expert at uSwitch.
Thorpe Lane is closely followed by Cawcliff Lane in Wilton, North Yorkshire, and Old Road in Maisemore, Gloucestershire – streets saddled with average download speeds of 0.71Mbps and 0.84Mbps respectively.
Here's a round-up of the 10 slowest streets for broadband:
image: https://st.zoocdn.com/zoopla_static_cms_content_cms_document_assets_(517945).jpeg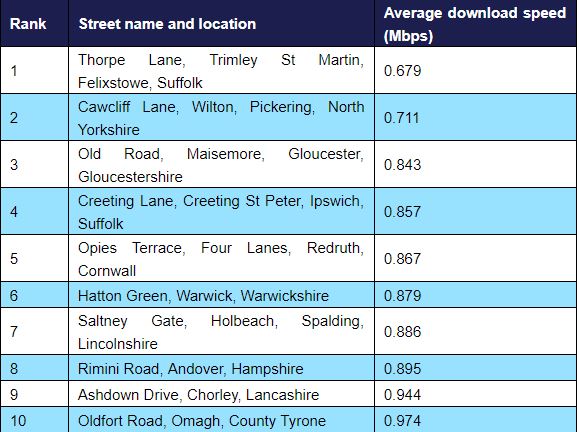 What can you do about it?
The good news is, there are ways to fight back against slow broadband.
Call your provider or check your contract to find out what type of broadband you are on
If it's ADSL (which operates on old fashioned copper wires) find out if fibre broadband is available by clicking on the box below and punching in the relevant postcode
If fibre broadband is available, make the switch to the provider that offers the best deal on it. "It's much faster and can cost from as little as an extra £5 a month," says Taylor-Gibson. "But do check for cancellation fees if you are tied into a contract."
Compare the cheapest and fastest broadband packages available in your area with uSwitch's Postcode Checker
Check my postcode
Beware! When providers list their broadband deals, they refer to speeds of 'up to' and this figure only has to apply to 10% of existing customers. In other words, there's a very good chance it won't mean you.
That said, each provider must also present you with a 'guaranteed' speed which is the minimum you'll get.
Note this speed down and check the provider is keeping its promise with this broadband speed test. If the speed is not up to scratch, tell your provider.
Other ways of boosting your broadband speed
Stuck with ADSL for now? Try these steps to boost your broadband speeds.
If possible, plug straight into the router rather than using wifi
If you are using wifi, keep the router away from appliances such as TVs, landline telephones and microwaves which can interfere with the signal
Keep the router somewhere central in the house and high up
Find more tricks like these with our guide.
UK's broadband hotspots
But on the flipside, which streets offer superfast broadband?
Benford Avenue in Motherwell, North Lanarkshire, takes the number one spot with lightning average speeds of 177Mbps, according to uSwitch.
In second place is Sheskin Gardens in Northern Ireland's Londonderry with speeds of 158.5Mbps, while Crosswood Road in Swindon, Wiltshire ranks third with speeds of 158.4Mbps.
Here's a round-up of the 10 fastest streets for broadband:
image: https://st.zoocdn.com/zoopla_static_cms_content_cms_document_assets_(517958).jpeg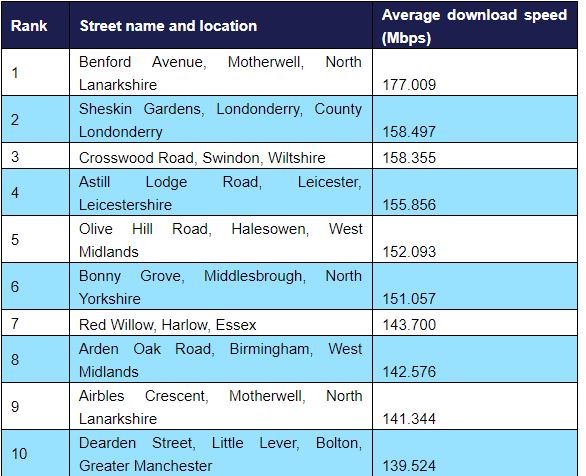 Although London is a major hub for commerce and technology, no street in the capital makes it into the top 10.
But within Greater London, Chestnut Drive in Pinner, Chatham Road in Kingston upon Thames and Claybridge Road in Grove Park, were placed 13th, 16th and 18th respectively on the tables with respective average download speeds of 134Mbps, 131Mbps and 129.8Mbps.
Read more at https://www.zoopla.co.uk/discover/property-news/do-you-live-in-a-broadband-blackspot/#Ui3EvFM3rmYkzkKg.99